JSOC (Joint Strategic Operations Command)
JSOC is the international branch of the Imperial Military, working with the joint chiefs of staff of allied nations to conduct joint operations against invading forces, supports invasions into enemy territory, and posesses control over one-fourth of the Hegemony's nuclear stockpile.
High Command
The Military High Command is made up of the Emperor, the Council and the highest Marshals, Admirals and Generals. Operating from the Diadem in the heart of Constantinopel on Earth, High Command gives the general orders, but doesn't affect the battle beyond broad strokes.
Central Command
Located in the major military bases, Central Command isn't made of commanding officers, but strategists and tacticians who guide the commanders on the field according to High Command's directions. They are also responsible for teh defense of the Empire's ground assets.
Field Command
Because Generals and Marshals generally don't like to be present on the battlefield (though there are exceptions, Starfleet Admirals command from the front half the time), they and their staff command their forces from forward bases. (fire bases, staging grounds, outposts etc.) Field Command isn't a permanent entity, but changes size and shape with every battle. The Field Command officers are the micromanagers of the battle.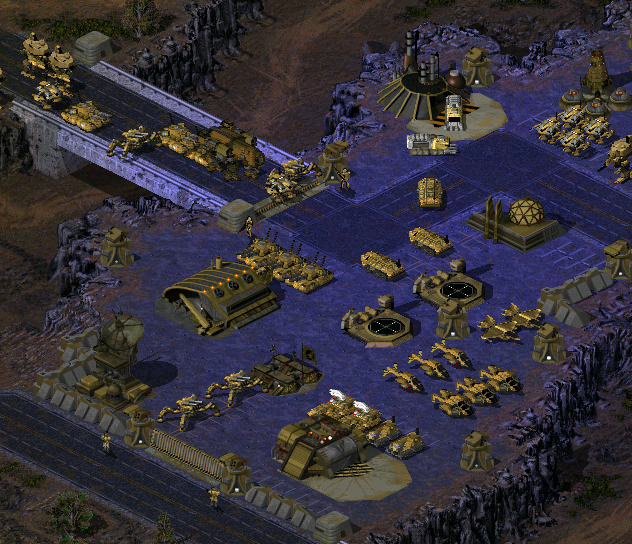 Orbital Space Command
Orbital Space Command is the institution that manages, operates and controls the Empire's orbital platforms, as well as the individual planets' space centers, and is responsible for every spacecraft in the planets' ionospheres.
Deep Space Command
Although every Fleet is largely autonomous, general orders and operations are managed by Deep Space Command. This same organization is responsible for the defense of the Empire's borders and controlled space.

Ranking system

Ground Forces
Field Marshal (army, 90000 - 360000 men)
Major General (corps, 45000 men)
Lieutenant General (division, 15000 men)
Colonel (brigade, 3000 men)
Major (battalion, 1000 men)
Captain (company, 200 men)
Lieutenant (platoon, 40 men)
Sergeant (section, 20 men)
Corporal (squad, 10 men)
Private
Naval Forces

Grand Admiral ( Fleet Group, 885 ships)
Admiral (Fleet, 221 ships)
Rear Admiral (Fleet Wing, 56 ships)
Colonel (Squadron, 11 ships)
Captain (1 ship)
Senior Officer
Junior Officer
Section Chief
Sailor
Air Forces
General (Division, 7777 planes)
Brigadier (Brigade, 1945 planes)
Colonel (Wing, 649 planes)
Major (Section, 163 planes)
Flight Leader (Flight, 55 planes)
Captain (Escadrille, 28 planes)
Sergeant (Squadron, 9 planes)
Enlisted ranks
Imperial Starfleet

Fleet Admiral (Fleet Group, 885 ships)
Admiral (Fleet, 221 ships)
Colonel (Section, 55 ships)
Commander (Escadrille, 16 ships)
Major (Squadron, 5 ships)
Captain (1 ship)
Ship Officers
Enlisted ranks